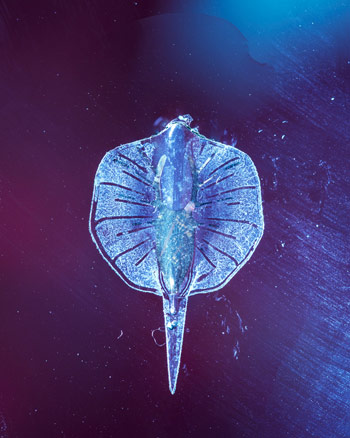 This is not a living creature, and it's not quite a robot – it lies somewhere in the middle and its existence could change the way we think about robots.
The small stingray-shaped creature was grown primarily by injecting heart muscle tissue from a rat into a 3D-printed scaffolding.
Similar to the terminator, the creature's endoskeleton is made of metal (gold).  Gold is highly conductive, doesn't easily oxidize, and it's able to store elastic energy.
When light shines on the creature, it reacts with the gold and is able to produce movement. Different kinds of light have different effects and can actually be used to steer the creature in a desired direction.
Multiple universities have contributed to the project including the School of Engineering and Applied Sciences at Harvard, the University of Illinois, the University of Michigan, and Standford University.
In one of their trials, the creature was able to traverse an obstacle course that was 15 times its body-length using a combination of different light pulses to control its propulsion.